South Jersey Personal Injury Lawyers
Accident Attorneys in Camden County, NJ Assist Clients With Obtaining Maximum Compensation for Their Injuries in Burlington County, Camden County, Cumberland County, and Throughout South Jersey
You will definitely devote all of your time and energy to recovering physically and emotionally from your accident if you have been hurt in a South Jersey accident for no fault of your own. Unfortunately, recovering after an accident can be expensive for you and your family, what with mounting medical expenses and lost income due to time away from work. You are entitled to compensation from the party who caused your accident if their carelessness or recklessness resulted in your accident. Contact our South Jersey personal injury lawyers today to arrange a free initial consultation to go over the specifics of your case and learn more about your rights and options for pursuing the monetary compensation you require and deserve if you or a loved one have been hurt in an accident or other incident in Camden County or the surrounding regions of South Jersey.
Were You or a Loved One Injured in an Accident and Now You Have Questions? We Can Help. Tell us What Happened.
What Are Personal Injuries?
Personal injury claims can occur when someone is physically or emotionally injured through the carelessness, negligence, recklessness or intentional actions of another. Under the law, the injured party may be entitled to compensation for damages including lost wages, future pay, medical bills, and pain and suffering as a result of an accident. These injuries can occur from a variety of situations including:
Types of Personal Injury Claims That Our South Jersey Personal Injury Lawyers Can Help You With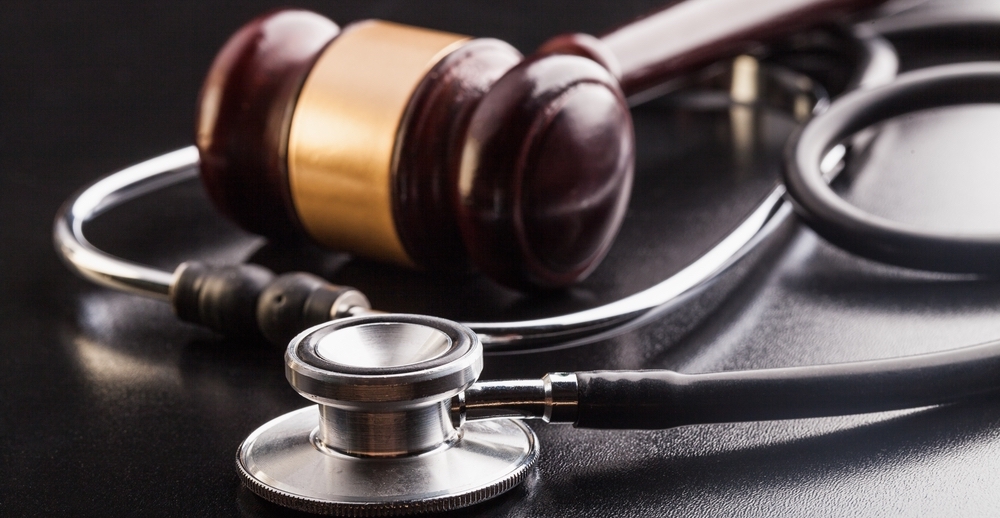 Personal injury claims fall into three main categories: negligence, intentional torts, and strict liability.
Negligence
Carelessness or recklessness can result in significant personal injuries.  Negligence can be committed by individuals, businesses, or government entities. A personal injury claim based on negligence does not require actual intent to do harm to another. Even if your own actions contributed to your injuries, you may still be entitled to compensation for your negligence claim.
Intentional Torts
Some of the most severe physical injuries are caused by the intentional actions of others.  Some of the most common intentional torts are assault, battery, theft, fraud, invasion of privacy and intentional infliction of emotional distress.  At DiTomaso Law, our experienced Cherry Hill, NJ tort attorneys aggressively fight for punitive damages in all intentional tort cases.
Strict Liability
Other personal injury claims are based on the legal theory of strict liability.  When an individual or business engages in certain inherently dangerous activities or uses inherently dangerous products, strict liability may be imposed for any resulting personal injuries.  Our experienced New Jersey dog bite attorneys have successfully handled numerous strict liability dog bite cases.
Types of Personal Injuries
Accidents can produce a wide variety of personal injuries, which include, but are not limited to the following:
Altered Smell and Taste
Amputation / Loss of Limb
Brain and Head Injuries
Burn injuries
Emotional or Psychological Distress
Eye injuries / Loss of Vision
Fractures
Joint injuries, including shoulder and knee tears
Ligament injuries
Muscle strains and sprains
Neck and Back injuries
Nerve injuries
Paralysis
Paraplegic Quadriplegic
Post-traumatic Stress Disorder
Scars and Disfigurement
TMJ & Other Dental Injuries
Types of Injuries Our South Jersey Personal Injury Lawyers Can Pursue Compensation For on Your Behalf
All types of serious injuries may be eligible for compensation if they are the result of someone else's negligence. However, victims must prove that the injuries they sustained are, in fact, the direct result of the accident. Proving this is easier for certain types of injuries than others, such as:
Broken bones, cuts, lacerations, burns, and bruises, which are obvious and demonstrate immediate evidence of injury.
Whiplash, brain injury, soft-tissue injury, persistent pain, and damage to internal organs, which may not be apparent until after the accident.
Post-traumatic stress disorder (PTSD), anxiety, and depression, which may develop much later as the result of an accident.
Diagnostic tests may fail to detect serious soft-tissue injuries. Medical evaluations by skilled medical professionals are necessary to diagnose the damage. For example, herniated discs may not show up until days after an accident. Discs between the spinal vertebrae can become dislodged as a result of the force of a fall or auto accident. The victim may be able to walk away from the accident scene; however, over time, swelling can cause severe nerve pain and numbness.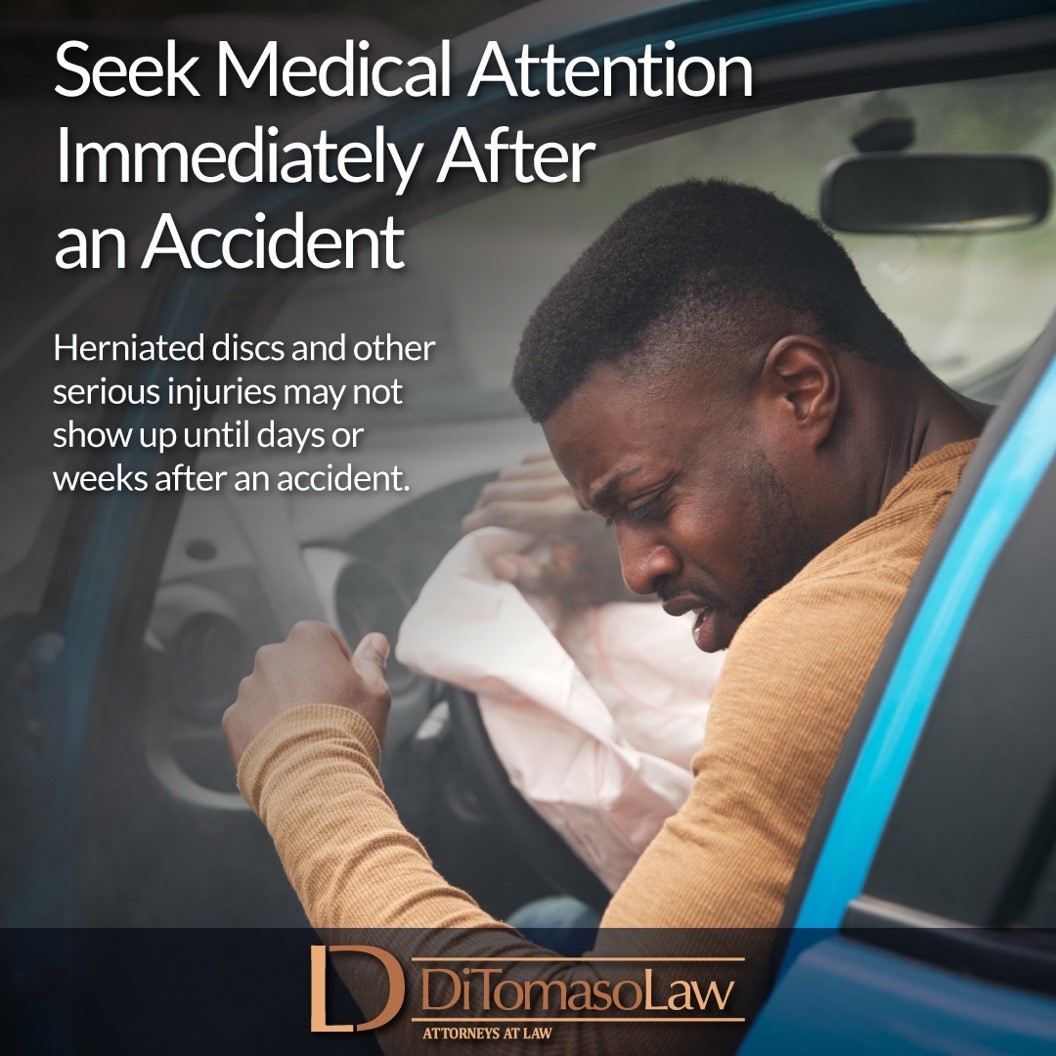 No matter the type of injury sustained, a victim must obtain medical attention as soon as possible. Insurance companies may have grounds to deny claims simply because an accident victim did not seek prompt medical help. Whether immediately obvious or not, medical conditions arising from an accident require costly treatment. Accident victims can increase their chances of receiving maximum compensation by keeping detailed records of all their symptoms, as well as doctor's visits and treatments.
Is it Necessary to Prove Negligence in Order for Our South Jersey Personal Injury Lawyers to Help You Obtain Compensation?
Personal injury claims rely on proving that another party's negligence caused or substantially contributed to the accident that caused the injury. In most cases, it is necessary to prove negligence to obtain compensation. The underlying legal concept is also known as duty of care. A person who is deemed negligent failed to exercise a reasonable amount of care that is required to minimize the risk of injuring another person. Proving negligence involves demonstrating that the negligent party breached that duty of care, which caused or substantially contributed to the injury or death. The damages sought, including economic and non-economic damages, must be actual losses suffered as a result of the injury or death.
What is Contributory Negligence and How Does it Apply to a Personal Injury Case?
In New Jersey, a person seeking damages must prove that they were no more than 50 percent at-fault for the accident. Contributory negligence assigns a percentage of fault to each party, but the person who is seeking damages must be less responsible for causing the accident than the party who allegedly failed to exercise the duty of care. If the victim was partially at-fault, the amount of damages awarded may be reduced according to the percentage of fault attributed to the victim.
For example, if a person wearing high heels slips and falls on snow-covered pavement, a jury may be convinced that the injured party was partially responsible for the accident because they failed to exercise a reasonable amount of care by wearing the wrong footwear. The jury may also be convinced that the property owner waited too long to shovel the sidewalk. The decision of how much negligence should be attributed to either side is somewhat subjective. Because of this, an accident victim can benefit tremendously from seeking the help of a skilled lawyer who is experienced in building a case and convincing a jury about the true circumstances of the accident.
★★★★★
Rich DiTomaso was an excellent attorney. He was knowledgeable, thorough, and settled our case with a great result. We would highly recommend using this attorney.
★★★★★
Five stars absolutely deserved here. They handled every detail, from insurance companies to doctors and bills. I highly recommend Richard and his colleges.
★★★★★
Richard Ditomaso is an expert in his field. He goes above and beyond for his clients. If you're looking for a great lawyer, give this one a chance; you won't regret it. A+++
How Do No-Fault Laws Affect Compensation in Car Accident Cases?
Because New Jersey is a no-fault state, medical bills for car accident victims are covered, no matter who caused the accident. This system, known as personal injury protection (PIP), has its drawbacks. No-fault laws may affect compensation in some cases by limiting limit the victim's right to sue negligent drivers for pain and suffering, inconvenience, and emotional distress.
However, when victims' injuries meet a given threshold of severity or disability, they may be entitled to seek additional compensation. A lawyer who understands the complexities of the New Jersey auto claims process can provide professional counsel regarding the potential value of personal injury claims.
Pennsylvania is also a no-fault state but with certain differences. If a victim's medical bills and other economic losses exceed certain limits, they may be able to step outside no-fault restrictions and sue the negligent driver. However, financial compensation may be diminished if the victim is found to be partly at-fault, since Pennsylvania follows a modified comparative negligence rule. Accident victims found to be more than 50 percent at-fault lose their eligibility for additional compensation.
Should I Talk to Insurance Adjusters After a Car Accident?
After a car accident, an insurance company may attempt to minimize the extent of the victim's injuries in order to pay them less. They may also try to make it difficult for the driver to file a claim. Victims should not talk with insurance adjusters after a car accident if serious injuries occurred. Rather, they should contact a lawyer who can help determine the value of the claim and advise them regarding any statements they should or should not make to insurance companies.
How Do DiTomaso Law's South Jersey Personal Injury Lawyers Help Victims After a Car Accident?
Car accidents are frightening, and the aftermath can be even worse. Injuries and wrecked vehicles may result in financial devastation. Disruption of one's daily routine creates added stress. A good lawyer can make a big difference in helping victims cope with these difficulties by giving them a better chance at obtaining the financial compensation needed to pay for medical treatment and other expenses, including the following:
Medical and dental bills
Cost of physical and psychological therapy
Prescriptions
Prosthetics, wheelchairs, and crutches
Lost wages
Pain and suffering, as well as emotional duress
An experienced lawyer can also reduce the emotional stress faced by accident victims by handling interactions with insurance companies and doctors.
Dangerous Machine Accident
What Can Drivers Do to Prepare for Car Accidents?
Few drivers think about preparing for car accidents. However, by taking a few minutes to prepare for the worst, drivers can be in a better position to make the best of a bad situation should an accident occur. The following are a few things that drivers can do to prepare for a car accident:
Check to ensure that the car registration and insurance card is up to date and in the vehicle.
Create a checklist about what to do after an accident, with relevant phone numbers, and place it in the glove compartment.
Make sure the car always has a first aid kit, bottled water, and other emergency supplies.
Drivers should always keep cell phones charged. Taking photos of the vehicle periodically can be helpful in maintaining a record of the car's condition prior to an accident.
Are Truck Accidents Different Than Car Accidents?
Truck accidents are different than car accidents in several ways. Although accidents involving commercial trucks occur less frequently than car accidents, they often cause catastrophic injuries. This makes it vital for victims of truck accidents to seek experienced legal representation. In addition, truck accidents are often more complicated than collisions between two cars, for reasons including the following:
Car accidents usually involve two drivers and two insurance companies.
In an accident involving commercial trucks, several responsible parties may be involved.
Trucking companies may dispatch their own insurance adjusters to the accident scene to start building a case to avoid paying full compensation.
In addition to the truck driver and the trucking company, other parties may be held responsible for causing a truck accident, including a third party that loaded the truck, another company that leased or maintained the truck, and the truck manufacturer. Each of these parties will typically have well-paid lawyers who are prepared to represent their company's interests. All these factors make it imperative for victims of truck accidents to seek qualified legal counsel.
How Serious are Motorcycle Accidents?
Statistics indicate that the consequences of motorcycle accidents are often more serious than car or truck accidents. According to The National Highway Traffic Safety Administration, motorcycle drivers suffer injury or death in more than 80 percent of all reported motorcycle accidents. Unlike a car or truck, a motorcycle provides no protection from impact in the event of a crash. When an accident occurs, the risk of fatal injury is much higher for motorcyclists than for drivers of passenger vehicles. For those who survive getting thrown off a motorcycle, the risks of head and brain injuries are significant.
Many times, the motorcyclist is not at-fault when an accident occurs. Approximately one-third of all reported motorcycle crashes are due to other vehicles turning into the path of a motorcycle. Dangerous driving conditions also cause many motorcycle accidents. Motorcycle riders may risk their eligibility for compensation if they are not wearing approved helmets or if they lack a state-issued motorcycle license. The state of New Jersey also requires motorcyclists to wear approved goggles or face shields if the motorcycle lacks a wind screen. Motorcycles must also be registered, insured, and inspected.
Why Do Pedestrian Accidents Happen?
According to the Governors Highway Safety Association, approximately 6,000 pedestrians are killed each year by motor vehicles, and thousands more are seriously injured.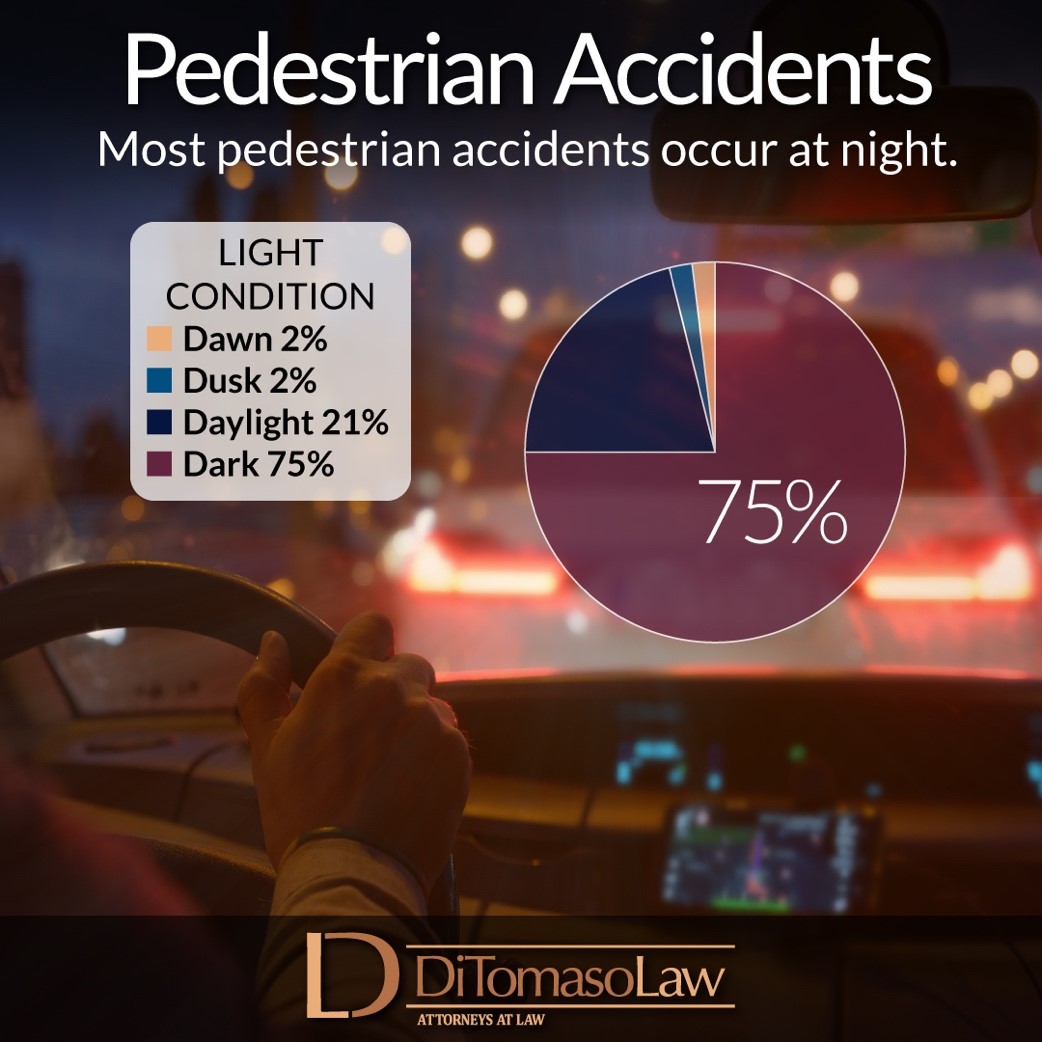 Pedestrians are also injured or killed when drivers fail to look while making a right turn on a red light. Drivers are often unharmed in these accidents, even though the injuries suffered by the pedestrians are serious, and may include broken bones, internal bleeding, and traumatic brain injury (TBI). Tragically, pedestrians have less than a 50 percent chance of surviving a crash when the car is traveling more than 30 miles per hour. Pedestrians who are hit by a car should not assume that the driver is always at-fault. Pedestrians may be partially responsible if they were:
Jaywalking.
Walking in an area that was not a marked crosswalk.
Walking erratically or in a way that forced the driver to take evasive measures to avoid an accident.
How Common Are Bicycle Accidents?
Car accidents involving bicyclists account for about two percent of all motor vehicle accident fatalities and injuries in the United States, according to the Centers for Disease Control and Prevention (CDC). However, when these accidents happen, bicyclists are more than twice as likely than vehicle drivers or passengers to be fatally injured.
Bicycle accident fatalities are often due to TBI. Simply wearing a proper helmet can reduce the chance of fatal injury by half. Bicycle accidents have been on the rise in some areas of New Jersey and Pennsylvania as more adults are riding bicycles as an alternative form of exercise during the ongoing COVID-19 pandemic. Riding a bike conforms to social distancing and is a great alternative to going to the gym. It is important for cyclists to remember to practice safety to avoid accidents. This can be accomplished by adhering to all applicable motor vehicle laws. Drivers should always be on the lookout for bicyclists and provide a three-foot margin when passing a bicyclist on the road.
What's a Wrongful Death Lawsuit?
In New Jersey and Pennsylvania, surviving family members have the right to file lawsuits against parties deemed responsible for the wrongful death of their loved one. Damages sought may include any medical bills incurred in an effort to save the victim's life, as well as funeral expenses and loss of future earnings.
The laws governing wrongful death recovery continue to evolve. In 2018, the State Senate of New Jersey introduced a bill that would expand the Wrongful Death Act to allow recovery for mental anguish, emotional pain and suffering, loss of society, and loss of companionship. In addition to possible changes in the law, other unique issues may arise in wrongful death suits, such as determining who is legally able to file a suit, the life expectancy of the deceased, and various insurance matters. For these reasons and more, it is in the best interests of surviving family members to consult an experienced lawyer who understands how to successfully approach these issues.
How Can The South Jersey Personal Injury Lawyers at DiTomaso Law Help After a Train or Bus Accident?
In a typical year, more than 10,000 bus accidents occur across the United States. Although bus drivers are similar to truck drivers in that they must undergo additional training to operate their vehicles, crashes still occur because buses are more difficult to operate than cars or trucks. School buses account for about one in three serious bus accidents.
In our region, many commuters depend on buses, trains, and other forms of public transportation to get to and from work every day. The Southeastern Pennsylvania Transportation Authority (SEPTA) and New Jersey Transit (NJ Transit) operate many of these bus and rail lines. If an accident occurs, filing a claim against SEPTA or NJ Transit can be extremely difficult. Obtaining compensation requires gathering the right information and knowing what to do afterwards. DiTomaso Law is familiar with all these requirements and is well positioned to assist accident victims who were injured on a bus or a train.
Are Slip and Fall Accident Claims Worth Pursuing?
Most people have experienced falling or bumping into something because they were not paying attention to where they were going. However, some slip and fall accidents occur because property owners were not exercising a reasonable amount care in the upkeep and maintenance of the premises. Serious injuries may result when property owners are negligent. Victims who fall forward may break an arm or wrist while attempting to brace their fall. Shoulder injuries and broken arms are also common when falling forward. However, falling backwards often results in serious injuries, including the following:
Concussions or TBI
Neck and spinal cord injuries
Tailbone injuries
Painful knee injuries, sprained ankles, and soft-tissue injuries can occur in any type of fall when the victim twists before hitting the ground. In order to obtain compensation for damages, victims of slip and fall accidents must demonstrate that their injury was the result of a dangerous condition on the property, and that the property owner knew or should have known about the condition, but did not fix the problem or failed to post warning signs to make others aware of the danger.
Determining whether a slip and fall accident claim is worth pursuing is not always clear cut. Several factors may come into play. For example, persons who fall while texting or talking on the phone may be held liable for their own injuries. A skilled personal injury lawyer can assess all circumstances of an accident and estimate the amount of compensation that may be due, including compensation for lost wages and pain and suffering.
What are the Benefits of Hiring a Workers' Compensation Lawyer?
Thousands of workers are injured in the workplace each day. Workers' Compensation is mandated by law to provide coverage for medical costs and lost wages for employees hurt at work. In some cases, Workers' Compensation also pays for vocational training and other expenses. However, workers can easily lose their rights to these benefits if they do not follow established guidelines. A worker may want to hire a Workers' Compensation lawyer for the following reasons:
Knowing for certain that the employee is following guidelines to preserve their eligibility
If their employer denies or minimizes the claim
Understanding how long benefits should last and what they can do if their employer attempts to cut off benefits before they can return to work
Although workers have the option of filing a claim without a lawyer and can represent themselves in court, Workers' Compensation litigation is complex, and injured workers face significant hurdles when pitted against large insurance carriers with experienced attorneys. Furthermore, some work-related medical conditions are more difficult to prove, including the following:
To obtain compensation, injuries and illnesses must be work-related and documented by health care professionals. If someone is injured at work or is suffering from a work-related illness, they do not have to go through this difficult time by themselves. An experienced Workers' Compensation lawyer at DiTomaso Law is fully prepared to handle an employee's legal needs, including determining the cause of the accident and negotiating with insurers on the employee's behalf. We will represent the worker's best interests in settlement negotiations and mediation, and take the case to trial, if necessary.
What The South Jersey Personal Injury Lawyers at DiTomaso Law Can Do for You
Being involved in an accident can be a frightening and overwhelming experience. Dealing with insurance companies can be even more unsettling; the paperwork, the phone calls, and the medical bills, all come at the worst time. Our accident attorneys in Camden County, NJ will assess your case, investigate your accident, and take aggressive steps to gather evidence on your behalf. Our accident lawyers in Cherry Hill will communicate with the insurance representatives for you, assist in getting your bills paid, and make sure you get the medical treatment that you need. Insurance companies have a team of lawyers working hard to prevent you from getting the benefits and compensation that you deserve. With DiTomaso Law, you have a team working for you. Our attorneys will consult with experts who are specifically tailored to your case so that we can be sure all your present and future conditions will be adequately compensated. We will aggressively represent you and fight for you, as long as it takes, to get you the justice and the compensation you deserve.
The South Jersey personal injury lawyers at DiTomaso Law have the skills and determination to deliver the best possible results for clients. Our experience and credentials set us apart from other firms. If you or someone you know was injured in an accident, call us at 856-414-0010 or contact us online to schedule a free consultation.
Accident Attorneys in Camden County, NJ at DiTomaso Law: Representing Injured Victims Throughout South Jersey and the Philadelphia Region
With offices conveniently located in Cherry Hill, New Jersey, and Center City Philadelphia, Pennsylvania, the experienced South Jersey personal injury lawyers at DiTomaso Law aggressively represent injured individuals throughout Southern New Jersey and Southeastern Pennsylvania, including Camden County, Burlington County, Salem County, Gloucester County, Cumberland County, Atlantic County, Bucks County, Montgomery County, and Delaware County. To schedule your free, confidential consultation today, call us toll-free at 856-414-0010 or contact us online.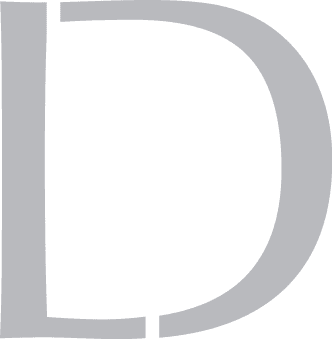 Get A 100% Free Case Evaluation
From A Top-Rated Personal Injury Attorney
$11.7M
Tractor-Trailer Accident
$1.5M
Drunk Driving Accident
$1.3M
Defective Machinery Accident
View All Case Results
"5 stars absolutely deserved here. If the need arises for legal representation again this is the only firm I will use. They handled every detail from insurance companies, doctors, and bills. I highly recommend Richard and his colleges and have to my friends and family."
See All Client Reviews